The main source for the contents of this wiki, if not otherwise stated, is the information available from the United States Geological Survey.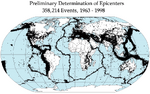 An earthquake is the result of a sudden release of energy in the Earth's crust that creates seismic waves. Earthquakes are recorded with a seismometer, also known as a seismograph. The moment magnitude of an earthquake is conventionally reported, or the related and mostly obsolete Richter magnitude, with magnitude 3 or lower earthquakes being mostly imperceptible and magnitude 7 causing serious damage over large areas. Intensity of shaking is measured on the modified Mercalli scale. (read more...)
| | | |
| --- | --- | --- |
| Theoretical articles | Earthquake articles | Single event articles |
Helping out
To write a new article, just enter the article title in the box below. (Template)
<createbox> width=24 break=no buttonlabel=Create new article </createbox>
Not sure where to start?
Adding content
Talk and more...
Check out the community portal to see what the community is working on, to give feedback or just to say hi.
What's new on Earthquakes Wiki
May 10, 2010

Classification of earthquakes by F-E region.

April 10, 2010

Restructuring of event and earthquake pages.

January 1, 2010

All earthquakes with M5.5 and above get articles.
Recent Earthquakes
Latest earthquakes (M5.5 or above):Edit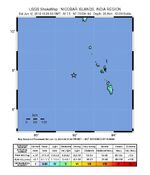 See also:
Earthquake calendar
June 19, Andaman Islands, India, region (M5.9)
June 18, Kuril Islands, Russia (M5.9)
June 18, South of Kermadec Islands, New Zealand (M6.0)
June 16, Near north coast of Papua, Indonesia (M6.6)
June 16, Near north coast of Papua, Indonesia (M7.0)
June 16, Near north coast of Papua, Indonesia (M6.2)
June 16, Bougainville–Solomon Islands region (M5.6)
June 14, Southern California, United States (M5.7)
June 13, Near east coast of eastern Honshu, Japan (M5.8)
June 13, Nicobar Islands, India, region (M7.5)
June 12, Bonin Islands, Japan, region (M5.7)
June 11, South Indian Ocean (M5.8)
June 10, Mindanao, Philippine Islands (M5.6)
June 10, Vanuatu Islands (M6.0)
June 9, Halmahera, Indonesia (M5.7)
June 5, Kuril Islands, Russia (M5.5)
June 3, Jan Mayen Island region (M5.5)
June 3, Vanuatu Islands (M5.6)
June 2, New Britain, Papua New Guinea, region (M5.8)
June 2, Vanuatu Islands (M5.6)
June 1, South Sandwich Islands region (M5.9)
June 1, Near coast of central Chile (M5.6)
June 1, Andaman Islands, India, region (M6.4)
May 31, Costa Rica (M5.9)
May 31, Mindanao, Philippine Islands (M5.9)
May 29, Qinghai, China (M5.8)
May 28, Vanuatu Islands (M5.7)
May 28, Vanuatu Islands (M6.4)
May 28, Vanuatu Islands (M5.7)
May 28, Vanuatu Islands (M7.2)
May 26, Southeast of Ryukyu Islands, Japan (M6.4)
May 25, Northern Mid-Atlantic Ridge (M6.3)
May 24, Western Brazil (M6.5)
May 24, Vanuatu Islands (M5.5)
May 23, Central Peru (M6.1)
May 21, Pacific-Antarctic Ridge (M5.7)
May 21, Near coast of central Chile (M5.7)
May 20, Costa Rica (M5.9)
May 20, Southeast of Easter Island (M5.9)
May 19, Pacific-Antarctic Ridge (M5.6)